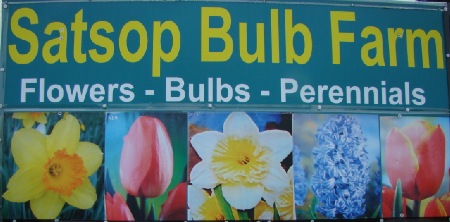 Now open with our Fall Bulb selection

It's time to plant bulbs!!!!

Open everyday through October 30th.

Hours: Week days 10 to 5, Weekends 10 to 4pm

We have daffodils by variety, mixes, and in bulk bags.

We have crocus, allium, bearded iris, tulips, and fall crocus. Please call us if you are looking for other specific bulbs. We are still awaiting shipments of additional novelty bulbs such as miniature daffodils, Pheasant Eye Narcissus and Paperwhite Narcissus, We will update this site as our shipments arrive.

We also have colorful fall plants available: Winter Pansy's & Violas, Cyclamen, Chrysanthemums, Hellebores, Asters, Heuchera, Rudbeckia, Ornamental Kale, and Calluna Heather.

Spring Season: March1 to May 1

Like us on Facebook and follow us there for the latest info!

Email: info@satsopbulbfarm.com Phone: 360-482-5566

********************************************************************************************************

Thank you for visiting our web site. We are a small family farm nestled in the Satsop valley of Grays Harbor County in western Washington State. We specialize in growing various varieties of Daffodil and Tulip bulbs. We have been in the flowerbulb business for over 50 years. Great pride and satisfaction are taken to offer our customers the finest bulbs and cut flowers we can possibly grow. (photos 2008)

In the fall we offer quality bulbs to meet the needs of home gardeners and landscape designers. We open our farm store with our bulb selection beginning on October 1st. We also order in a large selection of fall bulbs that compliment our own bulbs, such as crocus, hyacinths, iris, as well as additional tulips and daffodils. We close for the winter on October 31st.

Our seasonal store dates:

Flower sales: March 1st through May 1st

Bulb Sales: October 1 through October 30th

Address: 930 Monte Elma Rd. Elma, Wa 98541 Phone: 360-482-5566

Email: info@satsopbulbfarm.com