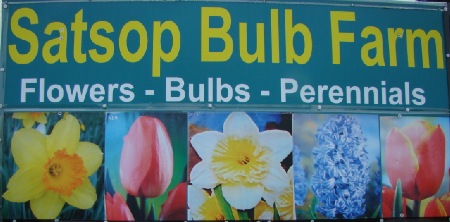 Our farm store is now open with a great selection of fall bulbs for your spring flowers!

Come out to the farm!!! OPEN 9 TO 6 EVERY DAY!!! Call us with questions - ph: 360-482-5566

Bulk Bulb specials... while supplies last:

100 mixed daffodils - $24.99: a wonderful hand mixed selection of our early, medium & late blooming varieties. Also, 50 bulbs for $14.99

25 lb/bag for $25 - Big classic yellow trumpet daffodils.

50 Mixed Tulips - $29.99: A beautiful, hand mixed selection of fabulous colors and types.

We also stock over 20 single varieties of daffodils. Prices starting at 10 bulbs for $5.00.

Tulips: We have over 20 different varieties of tulips, prices starting at 10 bulbs for $7.99.

Paperwhite Narcissis bulbs (variety: compact Ariel), ready for winter forcing - $ .80 each.

Fragrant Hyacinth bulbs; a great selection of 10 colors are $ .80 each.

Crocus, Dutch iris, snow drops, miniature daffodils, and double daffodils are now available!

Plants!

Winter pansy's and viola's - $1.29 each/4" pot

Cabbage & Kale - $4.99 gal.

Herbs - Culinary Thyme, Rosemary and assorted types of Mint - $2.99/4" pot

Heathers - $6.99 gal.

Hardy Fuchsia's - $9.99

And lots more!!!

Like us on Facebook!

Email: info@satsopbulbfarm.com Phone: 360-482-5566

********************************************************************************************************

Thank you for visiting our web site. We are a small family farm nestled in the Satsop valley of Grays Harbor County in western Washington State. We specialize in growing various varieties of Daffodil and Tulip bulbs. We have been in the flowerbulb business for over 50 years. Great pride and satisfaction are taken to offer our customers the finest bulbs and cut flowers we can possibly grow. (photos 2008)

We seasonally offer quality bulbs and fresh cut flowers to meet the needs of home gardeners and landscape designers. Take a moment to view our bulb catalog and start planning your spring garden!

Our seasonal store hours:

Flower sales: March 1st through May 15th Hours: 9 am to 6 pm daily

Bulb Sales: September 15th through October 30th: 9 am to 6 pm daily

Address: 930 Monte Elma Rd. Elma, Wa 98541 Phone: 360-482-5566

Email: info@satsopbulbfarm.com