Welcome to our daffodil selection: WHILE SUPPLIES LAST!

DUTCH MASTER... SOLD OUT Early blooms, large trumpet, all yellow. 24" tall. $25.00 per 25lb. bag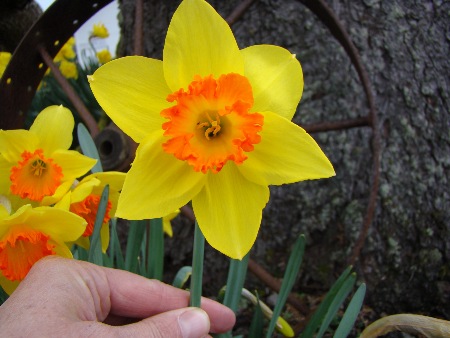 CAVALIERO....SOLD OUT early blooms, bright orange cup on yellow petals. 20 inches tall. Best if in partial shade as rim of cup can sunburn.$5.00 per 10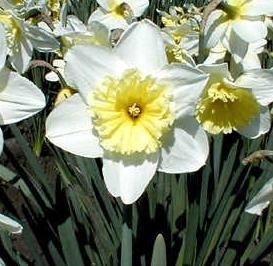 ICE FOLLIES....SOLD OUT yellow cup with white petals. This variety is unique in that the yellow cup soon turns to a frosty yellow and then transforms to pure white as the flower matures. 18 inches tall. Very hardy and proliferous. Mid spring bloom. $7.00 per 10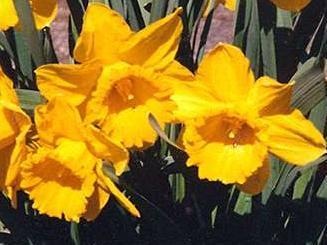 INCA GOLD... SOLD OUT A deeper golden yellow than the others. A big flower of all yellow with the classic trumpet. 24 inches tall. Hardy. Mid Spring bloom.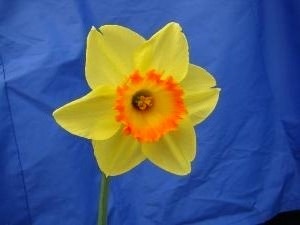 Carbineer...SOLD OUT Late daff.,20" tall, yellow with bi-color cup. $5.00 per 10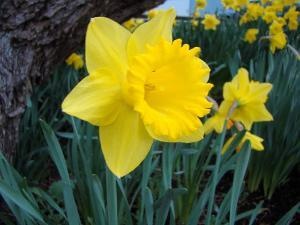 UNSURPASSABLE/INCA GOLD MIX... SOLD OUT Large trumpet, all yellow, 24 inches tall. Mid spring bloomer. $14.99 per 50

Mix... SOLD OUT a mixture of early, medium and late varieties offering your garden an extended bloom time. We hand mix this to be sure that you have a great assortment of varieties. $14.99 per 50